Hey y'all!  I hope you're ready for another fabulous product and an awesome giveaway! 
There's nothing HOTTER in the summertime than having healthy, gorgeous skin and I want to introduce you to a skincare line that can help you bring your flawless skin fantasy to reality…Lexli!
What is Lexli?
Lexli skincare products are available at select spas, physician offices and salons. To purchase products or to find a listing of participating retailers, visit www.lexli.com.  Because Lexli is unlike any other over-the-counter skincare brand, it is advised that consumers use the product line under the guidance of a licensed skincare expert. 
About Lexli International, Inc.
Lexli International, Inc. skincare company provides pharmaceutical-grade, potent Aloe-based skincare products to international skincare professionals and consumers. Founded in 1996 by Dr. Ahmed Abdullah, a board-certified plastic surgeon and nationally recognized aloe researcher, Lexli® offers a line of professional skin care products created to achieve healthier, younger-looking skin. All Lexli product formulations, including AloeGlyC®, the brand's patented and celebrated daily exfoliant, and the Lexli Acne Kit, the most potent and focused over-the counter acne treatment available, are developed with certified organic, pharmaceutical-grade aloe vera as their principal ingredient. Formulations incorporate additional natural ingredients, including pH-balanced humectants, masking agents, protectants and botanicals.
For several years, the skincare industry has been driven by the latest fads, trends and celebrity endorsements.  Popular culture has dictated that several times a year, a new "miracle ingredient" will burst onto the scene, promising unrealistic results. Just as quickly as the miracle ingredient grows in popularity, it is inevitably replaced by the next big thing.
A trendsetter in the beauty market, innovative skincare brand Lexli International is leading the way with a line of skincare products supported by scientific research and formulated with a base of certified organic, pharmaceutical-grade aloe vera, one of the most clinically effective natural ingredients in the world.   Through meticulous research and development, scientific advances, professional expertise and the understanding of a customer's well-being, Lexli is continuing to change the world of beauty. 
Why Aloe Vera?
Aloe Vera is a nutritional powerhouse, it contains over 75 nutrients such as minerals, amino acids, and a number of vitamins including B12, enzymes and more.  Aloe Vera is currently the only known natural source of vitamin B12.  Key health benefits and uses of aloe vera:
ü  The common advantages of aloe vera include moisturizing dry skin and maintaining the healthy skin
ü  A natural anti-inflammatory, aloe cleanses gently and penetrates deep into the tissue to heal damaged skin
ü  Products that contain aloe vera contain high concentration of a curative agent which is useful for the skin
ü  It is the best moisturizer that keeps the skin flexible by providing oxygen to the skin cells improving the synthesis and strength of skin's tissue
ü  Lexli product formulations also utilize vitamins and other proven effective ingredients to achieve healthier, younger-looking skin regardless of skin type, tone or age
All skincare products start with a base.  Most over-the-counter and physician dispensed moisturizers and exfoliants are water-based.  In fact, 99% of the skincare products on the market today start with water as the base then add other ingredients to make the product.  There's just one problem – not only does water dilute the active ingredients, your skin cannot absorb water. 
The Lexli System
The Lexli Skincare Collection is based on a simple four-step system designed to rejuvenate and restore the skin back to health. Lexli's unique formulation uses 100% pure pharmaceutical-grade aloe vera as the base of each product. According to Dr. Abdullah, "skin care doesn't need to be a complex ritual. There are many companies who claim different methods to solve common skin challenges like acne or wrinkles. We believe good skin care is more about frequent, preventative care. The key is basic cleansing, exfoliating, moisturizing and protecting."
Wanna make your skin look it's best for summer?  Here's your chance…check out the details below to see how you could win a Lexli 30-Day Starter Kit valued at $84! 
Lexli's 30-Day Starter Kit is an easy, inexpensive way to try our skincare line and make sure it's right for you. Each kit provides a month's supply of products featured as a part of Lexli's Simple 4-Step System. Included in the travel-friendly kit is: Aloe-Based Cleansing Lotion (2 oz.), Aloe-Based AloeGlyC® Renewing Exfoliant (0.50 oz.), Aloe-Based Day Moisturizer with SPF 15 for Normal to Dry Skin (0.50 oz.), Aloe-Based Tone and Balance (2 oz), Aloe-Based Night Moisturizer (0.5 oz).
Buy it!
To find out more about Lexli including how to order the products mentioned above and many more check out Lexli's website!
Win it! 
To enter this giveaway please leave a comment on this post telling me how you help keep your skin looking its best!  This is mandatory and must be completed before any additional entries are allowed!
Extra Entries!
Follow MIBR via GFC (2 extra entries)
Follow MIBR via Email (2 extra entries)
Follow MIBR via RSS Feed (e extra entries)
Grab our "What's HOT For Summer Button (2 extra entries)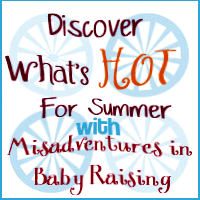 "Like" Misadventures in Baby Raising on Facebook (3 extra entries)
Follow MIBR on Twitter (3 extra entries)
Follow MIBR on Networked Blogs (3 extra entries)
Tweet about this giveaway on Twitter.  Include @Allie_23 in your tweets and please leave a link to your tweet in your comment.  (2 tweets per day = 2 extra entries per day)
Share this giveaway with your Friends and/or Fans on Facebook by linking to this post on your wall.  You can also link to either Allison Rigdon or Misadventures in Baby Raising in your post so that I can check out how awesome you are!  (You can share 2 times per day with your friends/fans on Facebook)
Submit this giveaway to a giveaway site or linky…please leave a link to the giveaway posting in your comment.  (5 extra entries per giveaway site or linky)
Blog about this giveaway and link back to this post.  (5 extra entries)
This giveaway ends on Wednesday 25, 2011 at 1:59 PM EST.  One (1) winner will be chosen via Random.org and announced in a separate winner's post shortly after the giveaway has ended.  Winner will have 48 hours to claim his/her prize, failure to respond to winner's email in a timely manner will result in winner forfeiting his/her prize and me choosing a new winner.  Giveaway open to US residents only please!