Hey y'all!  I promised you more great finds for summer when I got finished with this semester of school and I'm officially finished (thank goodness) and I've got a goody for y'all today! 
What is the one item for summer that all women get equally stressed and excited about?  Swimsuits of course, and not just any swimsuit will do…nope because there's nothing hotter for summer than a sexy bikini, or if you're not so happy about showing your midriff, a sexy tankini or maybe even a peek-a-boo one piece? 
Way back before I had babies, and cleavage, my swimsuit of choice was a push up bikini, it's amazing what a little padding can do y'all.  Now after having a few babies, and lots of cleavage, I still love padded swimsuits because they help push me up and they make the girls look fabulous!  And it just so happens that I've found one of the most fabulous places to find the hottest swimsuits—Voda Swim.
If you haven't heard of Voda Swim, you are really going to thank me for introducing you, let me give you the lowdown…
Voda Swim is a new concept in bikini design. The magic is in a new patent pending Envy Push Up bikini top created by international model Yulia. Where ordinary bikini cups sag and wrinkle, Voda Swim bikini tops create perfect bikini breasts! Finding a bikini top that fits is a frustrating, disappointing experience. That's why a young fashion model and avid beach lover decided it was time to rethink that whole bikini thing. "I spend a lot of time at the beach, but I was always self-conscious about my swimsuit. Whenever I put on a bikini, it looked baggy and I looked shapeless. The bikini tops didn't provide any lift or contouring, and made my breasts look non-existent."


Taking it as a personal challenge, Yulia and her husband Dustin spent many long nights working on high-fashion bikini designs that would make the most of the smallest assets. The secret is in the fit¿and a little hidden magic in the form of a soft and pliant enhancer that cups the breast, giving a full, rounded contour, with a natural bouncy movement. The cup shape insures a perfect fit providing support and shaping. The Envy Push Up top visually increases the bust size by up to two cup sizes and provides great lift and support! The curves and contours are utterly natural, the lift and cleavage are flawless.


The Envy Push Up line by Voda Swim, the first swim suit line designed especially to flatter small-breasted women or to shape breasts by providing lift and support, has the kind of cutting edge style that satisfies the most demanding fashionista. Beyond their good looks, Voda Swim suits are designed to take on any beachside activity from sunbathing to surfing to volleyball.
I received the Midnight Envy Push Up Tankini and Adjustable Scoop (pictured above), and I have to say that it ranks high up there on my list of top 3 swimsuits ever!  The tankini has the wow factor of the Midnight Envy Push Up String Bikini while still offering nearly full coverage and that is what I love most about this swimsuit!  The suit is fully lined, ties at the back and neck to allow for the perfect fit, and you can play around with the bottoms to make the look truly your own by adjusting the side ties.  Though I'm usually not a big fan of all black swimsuits, I love this suit because it's simple, sexy, and it offers a little touch of class and sophistication with the 14K gold plated end caps making it anything but a basic black swimsuit! 
Of course my new swimsuit isn't the only thing I love about Voda Swim!  They have a w
ide variety of mix & match suits in all kinds of colors and patterns, Brazilian bikini's that will make you wanna work out every day just to get into one, and FREE US Postal Service First Class shipping to anywhere in the world…seriously y'all what's not to love?  The fact that a Voda Swim padded swimsuit can make you appear 2 to 3 cup sizes bigger doesn't hurt either!
And now I have a surprise for all of you…how would y'all like to get 10% off of your order at Voda Swim?  Well if you enter MIBR at the checkout you can get 10% off just because you're all so fabulous! 
And now an even bigger treat…I know I'm just full of surprises today huh?  How would you like to win a swimsuit from Voda Swim?  Check out all of the details below on how you can win a Voda Swim suit!
Win it!
To enter this giveaway visit Voda Swim and have a look around, come back and leave a comment on this post telling me which swimsuit is your favorite…this is mandatory and must be completed before any additional entries are allowed!
Extra Entries!
Sign up for Voda Swim's newsletter (get discounts, deals, and the latest info from Voda Swim)…leave your email address to sign up for the newsletter (3 extra entries)
Follow MIBR via GFC (2 extra entries)
Follow MIBR via Email (2 extra entries)
Follow MIBR via RSS Feed (e extra entries)
Grab our "What's HOT For Summer Button (2 extra entries)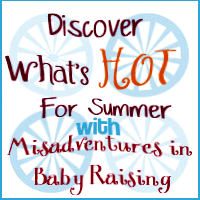 "Like" Misadventures in Baby Raising on Facebook (3 extra entries)
"Like" Voda Swim on Facebook(3 extra entries)
Follow MIBR on Twitter (3 extra entries)
Follow MIBR on Networked Blogs (3 extra entries)
Tweet about this giveaway on Twitter.  Include @Allie_23 in your tweets and please leave a link to your tweet in your comment.  (2 tweets per day = 2 extra entries per day)
Share this giveaway with your Friends and/or Fans on Facebook by linking to this post on your wall.  You can also link to either Allison Rigdon or Misadventures in Baby Raising in your post so that I can check out how awesome you are!  (You can share 2 times per day with your friends/fans on Facebook)
Submit this giveaway to a giveaway site or linky…please leave a link to the giveaway posting in your comment.  (5 extra entries per giveaway site or linky)
Blog about this giveaway and link back to this post.  (5 extra entries)
This giveaway ends on Wednesday 18, 2011 at 1:59 PM EST.  One (1) winner will be chosen via Random.org and announced in a separate winner's post shortly after the giveaway has ended.  Winner will have 48 hours to claim his/her prize, failure to respond to winner's email in a timely manner will result in winner forfeiting his/her prize and me choosing a new winner.  Giveaway open to US residents only please!
*I received the product mentioned above from the company or PR rep, all opinions expressed are my own!*