Our BTS Blowout is going full steam ahead…I mean come on, when is the last time you've known me to post on Saturday? Anyway we have a ton of great products and awesome giveaways left so make sure you stick around!
As I am sure many parents will agree, shopping for clothes is one of the most daunting and least fun parts of shopping for back to school. While I don't usually mind shopping for clothes, shopping for clothes with two girls who have very different tastes and have not yet quite grasped the concept of what "affordable" is, is challenging at best. That's why when I have the opportunity to shop online I am all for it and that is just one of the reasons why I love Tea!
No, not the drink (though I do love a big ole glass of the sweet iced variety) Tea clothing. Tea started in San Francisco in 2002 with three pima cotton sweaters. Tea offers children's fashions with the tagline "for little citizens of the world", celebrating the beauty found in different cultures from around the world.
Tea offers clothing for children from birth to age 12 for boys and girls. The Tea Collection is a unique mixture of colors, textures, and fabrics from around the world, in my opinion it is that uniqueness that makes Tea stand apart. Tea gets the inspiration from their clothing from everyday items around the world; a manhole cover in Budapest served as the inspiration for a
boys pullover
, Nesting Dolls proved to be too beautiful to simply display so the people at Tea used them as the inspiration for a girls tee, and so on and so on. Not only are Tea's clothing beautifully simplistic and absolutely adorable, they are also well-made and surprisingly affordable!

My beautiful daughter Savanna modeling her dress!

I received several items of clothing from Tea to review. I received a dress and leggings for my youngest daughter
(aka Lil Diva) and a dress and leggings for my daughter Savanna. As soon as I unwrapped the first dress I knew that I was dealing with a brand who took pride in their clothing. The
Folk Flower Layered Sleeve Dress
and matching leggings that I received for the Lil Diva were the perfect mixture of "Little House on the Prairie" meets modern baby; the fabrics were soft and comfortable and the pattern and colors impeccable. The Bandana Lace Print Dress and matching leggings that the people at Tea sent for my daughter Savanna were just as adorable as the folk flower dress; the poplin pattern inspired by the intricate lace bandana's worn in the Hungarian countryside, took me straight back to the days of watching Little House and Anne of Green Gables. I was so impressed with not only the dresses, but the amazing attention to detail that so obviously went into bringing their inspirations to life! As soon as my daughter Savanna slipped on the dress and leggings she stood in the mirror admiring herself for the better part of 5 minutes, "Mommy, I look like one of those old fashion girls." she said to me as she spun around in circles. Savanna loves all things "old fashioned" and this dress was no exception, I had a very hard time getting her to take it off! Of course, not all of the clothing at Tea is old fashioned looking there are so many adorable, affordable, amazing fashions that the hardest part will definitely be trying to choose!
Buy it!
You can purchase all of the clothing I received for review along with so much more online at
TeaCollection.com
!
I have some great news for all of my lovely readers right now, Tea is giveaway one very, very lucky MIBR reader a $100 gift certificate to TeaCollection.com! I am super duper jealous!

Win it: Mandatory Entry!

To enter this giveaway please visit TeaCollection.com and have a look around, come back here and leave a comment on this post telling me which 2 items are your favorite! This is super simple and easy, but also mandatory!
Extra Entries!
Please leave separate comments for each additional entry! Please make sure that you include your email address if it is not visible in your profile!
Follow MIBR via GFC, RSS, or Email: 2 extra entries each
Follow MIBR via Networked Blogs: 2 extra entries
Grab my BTS Blowout button: 2 extra entries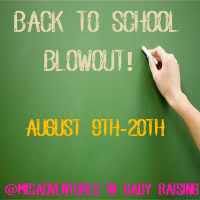 Grab my MIBR button: 2 extra entries
Tweet this giveaway on Twitter copy and paste or retweet but please include @All_23 in your Tweets: (2x per day per length of giveaway)
I just entered for a chance to win a $100 GF for Tea Collection clothing @Allie_23 http://tinyurl.com/333po3t!
Share this giveaway on Facebook: 2 extra entries
Stumble this giveaway (just the post not the entire site): 2 extra entries
Enter any of the other BTS Blowout giveaways: 1 extra entry per additional entry
Blog about this giveaway with a link to this post: 5 extra entries


This giveaway
ends on Monday August 29, 2010 at 11:59 PM EST
. One winner will be chosen via Random.org and announced in a separate winner's post. Winner will have 48 hours to contact me and claim their prize; failure to do so will result in winner forfeiting his prize and me choosing a new winner.
Good Luck!