I hope y'all are enjoying Misadventures Back to School Blowout! Make sure you check out the awesome products that we've already featured and don't forget to enter the giveaways as well!
One of my absolute worst fears in high school was forgetting my locker combination. As a matter of fact, I can't tell you how many times I forget it and was stuck staring at the lock for what seemed like hours trying to remember the combination. No matter how simple the combination, I seemed to always have trouble opening my locker. If you had this problem then I am sure you can relate. This past year was my oldest daughter's first experience with locks on lockers and she was less than thrilled about having to remember a combination. If you or your kids have "locker combination anxiety" stayed tuned because I have two awesome products from Master Lock that will definitely make remembering a combination a breeze!
Master Lock is helping teens survive the teen years in style and fun with the introduction of two great new products: Speed Dial Set-Your-Own Combination and the Precision Dial Set-Your-Own Combination locks. I have to say that I was very excited to try out both of these products and I cannot wait to tell you all about them.
The 1500iD Speed Dial Set-Your-Own Combination lock features a first-of-its-kind design that opens on directional movements—up, down, left, right—instead of a standard rotary dial. The lock is much faster to open than traditional locks and saves valuable time when you're rushing between classes. The innovative lock is customizable, allowing students to create their own east-to-remember, resettable combination with any number of movements in any sequence. For those who prefer more traditional methods of recalling their combination, the lock includes adhesive letters, numbers, colors, and shapes that can be applied to the lock's directional dials making recalling your combination easier than ever.
The 1590D Precision Dial Set-Your-Own Combination lock is designed for those students who prefer more traditional rotary padlocks, but with a twist! The Precision lock offers users a resettable combination feature in a familiar format. Students can leave memorization for their math books and choose their own combination with this lock using three letters or numbers. The lock operates with a standard right-left-right movement, and an enclosed reset tool ensures students will never need to worry about forgetting their combination again.
Of course, both the Speed Dial and the Precision Dial are available in an array of vibrant colors. The Speed Dial is available in red, blue, white, black, and chrome and the Precision Dial is available in pink, black, blue, and green. Both locks are available on Amazon.com (link on the side) with suggested retail prices of $8.99 and $7.99! Another cool feature of the locks is the ability to store your combination online at
combolocker.com
. The combination or key numbers are stored in a secure database and can be accessed 24/7, 365!
As I mentioned above Master Lock is helping teens survive the teen years…and adding a little fun by offering some pretty awesome contests! The back to school video series, "The Secret Combination to Surviving the Teen Years" is a fun way to engage teens and communicate the functionality and security that Master Lock provides. You can check out the video series (and enter the contests) online on
Master Lock's YouTube Channel.
I received both the Speed Dial and the Precision Dial for my review. I was very excited about trying these locks as my past experience with remembering combination hasn't been great. I was also so glad that there was finally a lock that my oldest daughter could use without worrying about forgetting her combination. The Speed Dial has turned into my absolute favorite combination lock ever! I love how easy it is to open and even better how easy it is to remember the combination…it really was as simple as remembering—up,up,down,down! As a matter of fact, the Speed Dial was so easy that all of the big kids could open it without even locking at the directional arrow, and my three year old figured out how to open it in about 2 minutes! We truly did love this lock and all of the kids demanded that we go out and get one for each of them for their lockers this year! The Precision Dial was just as easy to use as the Speed Dial, remembering a combination of numbers and letters seemed to make remembering the combination so much easier. My daughter Savanna had the combination down pat in just a few try's and commented that she wanted one as soon as she was in middle school.
I would definitely recommend both of these locks for any student!
Buy it!
You can purchase both the Speed Dial and the Precision Dial online at Amazon.com!
One lucky Misadventures in Baby Raising reader is going to win either the Precision Dial or the Speed Dial lock (winner's choice)!
Win it: Mandatory Entry!
To enter this giveaway leave a comment on this post telling me who you want to win this for! Simple, simple, but mandatory so make sure you do this!
Extra Entries!
Please leave separate comments for each additional entry! Also please be sure to include your email address!
Follow MIBR via GFC, RSS, or Email: 2 extra entries each
Follow MIBR via Networked Blogs: 2 extra entries
Grab my BTS Blowout button: 2 extra entries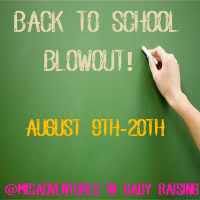 Grab my MIBR button: 2 extra entries
Follow MIBR on Twitter
: 2 extra entries
Tweet this giveaway on Twitter copy and paste or retweet but please include @All_23 in your Tweets: (2x per day per length of giveaway)
I just entered for a chance to win a $100 GF for Tea Collection clothing @Allie_23
http://tinyurl.com/333po3t
!
"Like" MIBR on Facebook
: 2 extra enrtries
Share this giveaway on Facebook: 2 extra entries
Participate in any of the Discussions on MIBR Facebook Fan Page
: 2 extra entries each
"Like" Master Lock on Facebook
: 2 extra entries
Stumble this giveaway (just the post not the entire site): 2 extra entries
Enter any of the other BTS Blowout giveaways: 1 extra entry per additional entry
Blog about this giveaway with a link to this post: 5 extra entries
This giveaway
ends on Monday August 31, 2010 at 11:59 PM EST
. One winner will be chosen via Random.org and announced in a separate winner's post. Winner will have 48 hours to contact me and claim their prize; failure to do so will result in winner forfeiting his prize and me choosing a new winner.