On Monday I start school, again. As excited as I am for this coming semester: new school, fresh start, new experiences and people, I am also terrified about one particular class—college algebra! It's not that I don't get algebra, it's not even that I dislike algebra, it's that algebra makes me a nervous wreck. Just thinking about starting this class has me anxious and completely stress, thank goodness my other classes are all communications related!
Last semester I had to take a pre-algebra course for college (that means you get to pay the same amount as you do for your other classes, but it doesn't count towards your progress…gotta love that). In my defense I did happen to take the COMPASS test (or what I like to call…the college placement test for old people) about 10 years after I finished high school, so I didn't remember anything. I did extremely well in my pre-algebra class, nothing below a 92 (yay me) but college algebra is another story entirely! Thank goodness I had a secret weapon last semester in my TI-83 Plus, for those of you not into the whole math thing, that's a Texas Instruments calculator and my best friend last semester. This semester called for something a little more advanced, and I found that in the TI-Nspire!
A couple of weeks ago I had the opportunity to do a review for the TI-Nspire, knowing that my college algebra class was getting closer and closer I couldn't resist the opportunity. Texas Instruments (the company responsible for making the invaluable TI-Nspire, "provides a wide range of advanced tools connecting the classroom experience with real-world applications, helping students and teachers to explore math and science interactively." The
TI-Nspire with Touchpad
is a graphing calculator that is perfect for any student (middle school through college) taking math, from algebra to calculus. In fact, the TI-Nspire can be used in 19 high school and college level math classes including: algebra and calculus, math and science, statistics, trigonometry, and engineering math. Even more comforting is the fact that the TI-Nspire graphing calculators are backed by research that shows graphing calculators can help to improve students' math skills. It's a fact that more students are taking higher level-math courses today; according to the National Assessment of Educational Progress report card for 2008 shows that the number of 17 year olds taking pre-calculus has tripled over the last 30 years. The TI-Nspire graphing calculator with touchpad has many advanced features that allow students to gain a better understanding as they make their way through advanced courses.
From the Texas Instruments Website:
TI-Nspire Graphing Calculator Features
Like a computer in your hand. The versatile graphing calculator has many computer-like features, including a large, high-resolution screen, drop down menus and a built-in cursor which helps students explore problem solving strategies in real-time.
Save and review work. Thanks to electronic document capabilities and built-in 20 MB of storage, students can create, save and edit their work similar to the word processing and file storage of a computer.
2 calculators, plus computer software, in one. Interchangeable keypads allow students to use the calculator in TI-Nspire, TI-84 Plus and TI-83 Plus modes, and included computer software brings the TI-Nspire experience to a PC or Mac.
TI-Nspire Freebies and Accessories
Even though my algebra class is still a few days away, I couldn't resist taking the TI-Nspire out and playing around with it. At first glance the TI-Nspire looks intimidating, but since I had a little experience with using the TI-83 Plus it didn't take me too long to figure things out. I tried a few problems from my notes last year and I was amazed at how easy to navigate the TI-Nspire was. One of my favorite features is the split screen capability of the TI-Nspire, it allows you to see a math problem in a number of different ways: as an equation, table, graph, geometric figure or text—how very awesome is that!?! Something else about the TI-Nspire that makes it very appealing to parents (and independent college students like myself) is the price; my TI-83 Plus (which I love by the way) was a little over $100 and the TI-Nspire, which is so much more advanced, retails for $139.99 an amazing value considering everything it can do! For me though the best thing about the TI-Nspire is that my oldest daughter (and probably my middle daughter as well) will be able to use the calculator this year and into high school, which makes the already appealing price tag that much more appealing for me!
Buy it!
You can find a full list of places to purchase this and other Texas Instruments products on the
TI website
where you can purchase the TI-Nspire as well!
Win it: Mandatory Entry!
To enter this giveaway please a comment on this post telling me why your child (or maybe yourself if you're a college student) needs a math makeover! This is super easy, but it's mandatory and must be completed before any extra entries are counted!
I have 1 "Math Makeover Kit" to give away to one of my very lucky readers! The "Math Makeover Kit" contains:
· A new TI-Nspire with Touchpad – this also includes the new computer software so students can bring their graphing calculator experience to a PC or Mac.
· 60 free minutes at
Tutor.com
.
· Several other fun items, including T-shirts, water bottles and cell phone charms.
Extra Entries: Please leave separate comments for each additional entry!
Follow MIBR via GFC, Email, or RSS: 2 extra entries
Follow MIBR via Networked Blogs: 2 extra entries
Follow MIBR on Twitter
: 2 extra entries
Grab our Back to School Blowout Button: 2 extra entries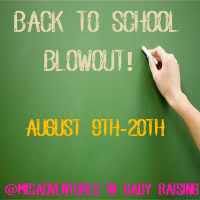 Tweet this giveaway on Twitter (copy and paste the following Tweet or ReTweet and include @Allie_23): 2x per day per length of giveaway
I entered to win a Math Makeover Kit from Texas Instruments at MIBR
http://tinyurl.com/38g9p36
@Allie_23
Follow Texas Instruments on Tw
itter: 2 extra entries
"Like" MIBR on Facebook
: 2 extra entries
"
Like" Texas Instruments on Facebook
: 2 extra entries
Share this giveaway on Facebook: 2x per day per length of giveaway
Participate in one of the discussions on MIBR's FB Page
: 2 extra entries
Stumble this giveaway: 2 extra entries
Blog about this giveaway with a link to this post: 5 extra entries
This giveaway
ends on Friday September 3, 2010 at 11:59 PM EST
. One winner will be chosen via Random.org and announced in a separate winner's post. Winner will have 48 hours to contact me and claim their prize; failure to do so will result in winner forfeiting his prize and me choosing a new winner.