Hey, hey, hey…boy do I have something awesome to tell all of you! If you've been a MIBR reader for a while you know that we've had a "Fun in the Sun" blog party every year around May or June, but this year I decided to mix things up a bit and do a "What's HOT For Summer" kinda, sorta blog party…and you're all invited!! We have some fabulous products to tell you about and some mega fantastic giveaways too! You can check out a list of participating companies below!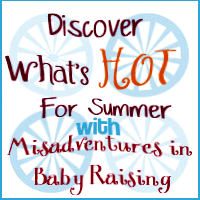 "What's HOT For Summer" Participants!
Sponsored by Betty Crocker Fruit Flavored Snacks
Make sure you grab out "What's HOT For Summer" button and put it on your blog! If you grab the button before Sunday May 1st you will get 5 extra entries into ALL of the giveaways and trust me when I say that you will definitely want those extra entries when you see the list of prizes!