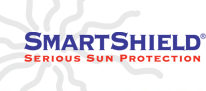 Yesterday we talked about the best (in my opinion of course) all natural children's sunscreen as part of our Summer Must-Haves list.  Today I will be introducing you to a great all-natural sunscreen for us ladies, and you gentle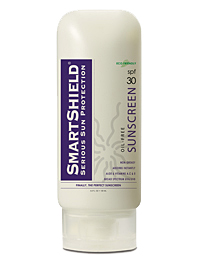 men of course! 
While I don't consider myself "green" by any stretch of the imagination I do try to buy all natural, eco-friendly products whenever possible.  When I buy sunscreen I usually buy based on brands that I have had success with in the past, so whenever I try a new sunscreen I am leery of how well it will perform. 
A while back I was asked to do a review for SmartShield sunscreen, I figured with summer coming up it was a no brainer and said yes.  SmartShield is company that was started after one family's close call with skin cancer.  Like many people they knew they should be wearing sunscreen, but didn't because of the many drawbacks (oily, messy, stinky).  Through their close call and knowing how important sunscreen was in skin cancer prevention they set out of develop a sunscreen that people would want to use, and so SmartShield was born!  Not only did the people behind SmartShield develop a formula that was non-greasy, light on the skin, and great smelling, it's also eco-friendly.  SmartShield isn't just selling sunscreen, they also offer lip balm, insect repellent, and self tanner.
I received a bottle of SmartShield's SPF 30 sunscreen to review.  To be honest I did have my reservations about how well it would perform compared to my usual brand of sunscreen, but was very relieved to find out it worked great!  The sunscreen is light on the skin and easy to apply, unlike most other brands of sunscreen that take forever to apply and leave your skin feeling sticky.  Of course, the real test is how well it performs in the sun.  Since I have gotten older I have noticed areas of my skin (specifically my face) being covered with freckles…I have never had freckles before…and I can only attribute them to sun exposure (since they seem to get worse when I've been out in the sun unprotected).  Since using the SmartShield sunscreen I have noticed a big change in the frequency of my freckles, they seem to have slowed down no matter how often I am in the sun…and I love it!  In a pinch I have even used the SmartShield sunscreen on the kiddos and it worked beautifully!
Buy it:  You can purchase SmartShield products online here.
Win it:  One MIBR reader will win a SmartShield SPF 30 sunscreen from SmartShield!  Just head on over to SmartShield and have a look around, come back here and tell me which other SmartShield product(s) you would like to try!
Extra Entries:  Please leave separate comments for each additional entry!
Follow MIBR via GFC, RSS, or Email:  2 extra entries
Grab my button: 2 extra entries
Follow Me on Twitter:  2 extra entries
Tweet this giveaway:  2 tweets per day per length of giveaway
"Like" MIBR on Facebook:  2 extra entries
Blog about this giveaway:  5 extra entries
Stumble this giveaway (Just this post, not the entire blog):  2 extra entries
Comment on any non-giveaway post:  1 extra entry per comment
This giveaway ends on August 5, 2010 at 11:59 PM EST.  One winner will be chosen via Random.org and posted in a separate winners post.  Winner will have 48 hours to contact me and claim his prize.  Failure to claim prize in allotted time will result in me choosing another winner.
Good Luck!