As bittersweet as it may be, today is the final day of the Fun in the Sun blog party! I would like to thank all of our sponsors for the awesome giveaways and all of you for entering! I wanted to make sure the Fun in the Sun blog party went out with a bang—and thanks to Eureka Tents it will!
What is more fun in the summer than going camping? From the time spent with family and friends to enjoying the great outdoors—camping is a favorite among families when the weather is warm. I must admit that I am not an outdoorsy person; I don't like bugs, I'd rather sit inside in the air-conditioning when the mercury rises, and peeing in the woods has never been high on my list of things to do. Unfortunately for me all of those things seem to appeal to my family (though I couldn't imagine why) so I have decided that I may just have to try camping for them. Fortunately for me I found a company who may just make our camping adventure a little easier—and a lot more fun!
Eureka is a company that specializes in the outdoors; from family and
backpacking tents
to
kids sleeping bags
, Eureka has just about everything to make your outdoor experience successful! Not only does Eureka know how to do camping they also know how to give back! With their
Sheltering Haiti 2010 Campaign
, Eureka is committed to donating 100 Eureka tents to the OASIS Institute ( an "adopt a child at a distance" program that enables Haitian children orphaned during the 2010 earthquake to be raised in their native country). The best part is that
you can help
them reach their goal of 100 tents—it's quick easy and for a great cause—simply visit Eureka's
Facebook Page
and become a Fan (or Like)…for every 20 new fans Eureka will donate one tent to the OASIS camp in Haiti until their goal of 100 is reached. So make sure you head over to Facebook and become a Fan of Eureka and do your part to help with the devastation in Haiti!
I received the
Eureka Timberline SQ 2XT
tent from Eureka to review. The Timberline SQ 2XT (a throwback of sorts to the classic Boy Scout tent in design) is a compact, lightweight (total weight being 6lbs. 10 oz.), three-season tent that is ideal for backpacking and camping in wilderness conditions. Proprietary Sequoia A-frame and updated materials provide strength, stability, ease of entry, and increased internal volume (something I can definitely attest to). Some of the more notable features of the Timberline SQ 2XT tent are:
*
SQ Hub- The proprietary SQ Hub offers strength and optimum angles to provide for increased internal volume and excellent livability.
*
Mid-Span Pole Spreader- The mid-span ridge pole spreader bar accentuates the curves in the tent body, adding internal volume to the tent body.
*
Vertical Doors- Two large vertical D-style doors with Hi/Low venting offer ease of entry and increase ventilation.
*
Vestibule- Tent vestibule provides extra room to store gear.
*
Bathtub Floor- Bathtub floor wraps up sides of tent, protecting against splashing and standing water.

My kids were very excited when our Timberline SQ 2XT tent arrived, it was as if they knew that the tent was their way of getting me into the great outdoors. I figured that the set-up was going to be a nightmare, and since I've never exactly pitched a tent before I enlisted the help of my husband and brother-in-law to get it set up, but to my surprise (and theirs) it was pretty easy to set-up and took less than 10 minutes from start to finish. While I love many things about the Timberline SQ 2XT the one attribute I appreciate most is its size. While the tent is a 2 man tent it easily fit my husband, brother-in-law and a couple of the kiddos with some room to spare and all of the kids (yes all 6 of them) had a great time playing around in it before we took it down…so it is very roomy! I also very much appreciate the nostalgic look of the tent, it definitely brings me back to my childhood and seeing the tents the boy scouts became fast experts in pitching. Perhaps my favorite thing about the Timberline SQ 2XT is the fact that I can finally go camping with my kiddos and feel safe, warm, and sleep sound…yes that is my definitely my favorite!

Buy it
: You can purchase the Timberline SQ 2XT
Eureka camping tent
online at
eurekatent.com
for
$219.00
.
One very lucky Misadventures in Baby Raising reader won't have to wait to purchase the tent though because Eureka is giving one lucky reader a Timberline SQ 2XT tent of their own! Can you say awesome?
Win it
: To be entered into this giveaway you must visit
Eureka
and look around, come back and leave a comment on this post telling me which other item (
you cannot use the Timberline SQ 2XT for your answer…those who do will have their entries deleted
) you would like to have.
This is mandatory and must be completed before any extra entries will be eligible!
Extra Entries
: Extra Entries for this giveaway will be a little different than the other extra entries for the Fun in the Sun event so please read carefully! Please leave separate comments for each extra entry!
Grab the Eureka Tent Giveaway Button (below) and place it on your blog: 5 extra entries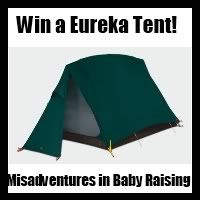 Follow Misadventures in Baby Raising via Google Friend Connect: 2 extra entries
Follow Misadventures in Baby Raising via Email: 2 extra entries
Follow MIBR via RSS Feed: 2 extra entries
Grab my Fun in the Sun event button and put it on your blog…If you posted the button before (May 1) then you may have 5 extra entries into this (and all of the other FITS) giveaways: 2 extra entries otherwise
Grab my MIBR button: 2 extra entries
Become a
Fan of Misadventures in Baby Raising on Facebook
: 2 extra entries
Become a
Fan of Eureka on Facebook
: 2 extra entries
Follow Misadventures in Baby Raising on Twitter
: 2 extra entries
Tweet this giveaway on Twitter (you can use the Retweet button just be sure to include MIBR and @Allie_23 in your Tweet): 2 Tweets Per Day Per Length of Giveaway!
Stumble this giveaway (not the entire site just this giveaway): 2 extra entries
Enter any of my other giveaways: 1 extra entry per additional entry into another giveaway
Blog about this giveaway with links to this post and Eureka: 10 extra entries
This giveaway ends on May 31, 2010 at 11:59 PM EDT
. One winner will be chosen via Random.org and announced on a separate winner's post. Winner will be emailed and then have 48 hours to contact me. Failure to contact me within that amount of time will result in winner forfeiting his prize and me choosing a new winner.