In my house stuff disappears, keys, clothes, shoes, diapers, pens, and as much as I do not like it, it seems to be just the way things are around here.  Every year when I buy school supplies I always make sure to buy extra; extra paper, extra glue, and definitely extra pens and pencils.  Pens and pencils seem to disappear around here as often as I change my clothes and it drives me insane.  Especially because I am a little crazy when it comes to pens, I'm picky and I like what I like—that's just me.  When I find a pen that I like I buy them in bulk, you know how some moms hide their favorite sweet treats away from sticky little fingers?  Well I hide (or hoard) my pens.
Since I am so picky about pens I tend to stick with brands that I know and love—like Paper Mate.  I've been buying Paper Mate products for years, and with good reason, I love them!  So when I had the opportunity to do a review for some Paper Mate products I was over the moon excited…yes I am that big of a dork!  Paper Mate sent me several products to review including quite a few from their Green line!
Some of the goodies Paper Mate sent me to review! 
Paper Mate Biodegradable
*  Part of the first biodegradable line up of products.
*  Biodegradable components are made from an exclusive corn-based material, a renewable resource, to produce less waste and more compost.
*  Smooth, comfortable writing experience.
*  Available in ball point pen and mechanical pencil.
*  Mechanical pencil starter kits feature a unique eraser and lead refill holder made of biodegradable material
Paper Mate FlexGrip Ultra Recycled all Point Pen
*  Classic trusted favorite, now part of greener choices—made from 70% recycled material
*  Grip rings near the tip for added comfort
Paper Mate Earth Write Recycled Pencil
*  100% recycled cedar wood from the USA
Paper Mate Write Bros. Recycled Ball Point Pen
*   Classic trusted favorite now part of greener choices—the recycled version is made from 80% recycled material
First I have to say that the Paper Mate Gel pens are my absolute favorite pens hands down; I love the way they write, the way the tip of the pen glides over the paper, and the finished product—it seems to just make my writing look more elegant and beautiful!  Since I am so picky when it comes to pens I really didn't think I would adjust to using the other pens and like them as well as I like the Gel pens, but I was wrong.  My favorite pen in the Green Line is hands down the Paper Mate Biodegradable!  I love that the pen is fairly big around, I think fatter pens are easier to write with than their skinnier counterparts, and the fact that it glides along the paper so effortlessly certainly didn't hurt!  I am also curious about ways to make my family's life more eco-friendly and green and in my opinion this is a great starting point! 
Even though I did like some of the Paper Mate products more than others (I don't write with regular pencils much so I didn't really have an opinion on them) I think it's safe to say that this company knows what they are doing when it comes to writing utensils! 
If you get a chance head over to Paper Mate's Facebook page, they have a ton of great stuff going on over there!  You can upload a picture of you with your Paper Mate Pen and receive a FREE Paper Mate Pen (I'm all over that), you can also collect UPC codes from Paper Mate Products for a chance to win $15,000 worth of Paper Mate products for your school!
Buy it!
You can purchase Paper Mate products online, at Office Max, Walmart, Office Depot, and more!
Since the people at Paper Mate are so very awesome…they are giving 2 lucky MIBR readers some fabulous Paper Mate products!  Each winner will receive a 5-pack of Paper Mate Gel Pens and a Silhouette mechanical pencil (with refills)!
Win it:  Mandatory Entry!
To enter this giveaway please visit Paper Mate, come back and leave a comment on this post telling me which Paper Mate product(s) are your favorite!  This is mandatory and must be completed before any additional entries are counted! 
Extra Entries
Follow MIBR via GFC, Email, or RSS:  2 extra entries
Follow MIBR via Networked Blogs:  2 extra entries
Follow MIBR on Twitter:  2 extra entries
Grab our Back to School Blowout Button:  2 extra entries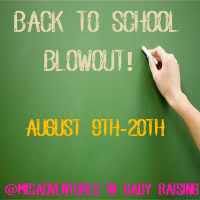 Tweet this giveaway on Twitter (copy and paste the following Tweet or ReTweet and include @Allie_23):  2x per day per length of giveaway
I entered the Paper Mate Giveaway at MIBR http://tinyurl.com/38g9p36 @Allie_23
"Like" MIBR on Facebook:  2 extra entries
"Like" Paper Mate  on Facebook:  2 extra entries
Share this giveaway on Facebook:  2x per day per length of giveaway
Participate in one of the discussions on MIBR's FB Page:  2 extra entries
Stumble this giveaway:  2 extra entries
Blog about this giveaway with a link to this post:  5 extra entries
This giveaway ends on Monday September 6, 2010 at 11:59 PM EST.  Two winners will be chosen via Random.org and announced in a separate winner's post.  Winners will have 48 hours to contact me and claim their prize; failure to do so will result in winner forfeiting his prize and me choosing a new winner.